Defensive bioweapon? DARPA wants insects to spread genetically modified viruses… to 'save crops'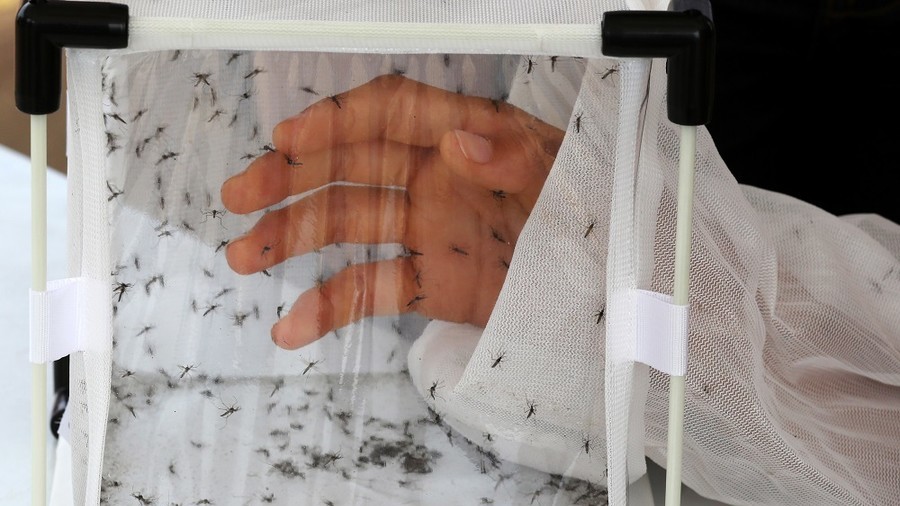 A US military program dubbed 'Insect Allies' could be used as a biological weapon, a group of European scientists warns. The Pentagon's research arm claims they are intended to defend crops, but doesn't deny 'dual-use' potential.
Researchers from the Max Planck Institute for Evolutionary Biology and the University of Freiburg in Germany, as well as the University of Montpellier, France, have published a critique of the program, dubbed "Insect Allies," in the October 5 edition of Science.
Full Text on Sci-Hub.
They argue that "the knowledge to be gained from this program appears very limited in its capacity to enhance US agriculture or respond to national emergencies" and therefore the program "may be widely perceived as an effort to develop biological agents for hostile purposes and their means of delivery," which would mean a breach of the Biological Weapons Convention.
Speaking to Gizmodo on Thursday, Dr. Blake Bextine, program manager of Insect Allies, said that DARPA was "not producing biological weapons, and we reject the hypothetical scenario," though they "accept and agree with concerns about potential dual use of technology."
However, Bextine's two-page response, released by the Defense Advanced Research Projects Agency later in the day, did not contain the forceful denial of bioweapons charges. Instead, Bextine argued the program was intended to "respond rapidly to threats to the food supply" and that it was subject to government regulation and transparency rules.
Nothing could possibly go wrong, Bextine firmly emphasized, simply because "every performer in the program is required to include at least three independent kill switches in their systems to shut down functionality of the technology."
DARPA's insect allies would work by injecting the affected crops with gene-editing viruses intended to target whatever ailment affects them, using CRISPR technology. The researchers point out this mechanism could also be used to introduce viruses into healthy organisms, however.
The question is not whether the program can be weaponized; it already has been. DARPA has been one of the major sources of funding for a project to release genetically modified mosquitoes into the wild, armed with a gene-editing virus intended to sterilize the species that transmits malaria. There have been plans to release these GMO mosquitoes in the Florida Keys.
The dispute over Insect Allies comes as Russia has raised concerns about a US biological research facility in Tbilisi, Georgia. A former government minister has recently published online some 100,000 pages of documents about the facility.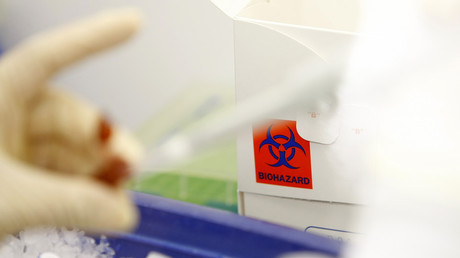 The Russian military is now looking into the outbreaks of African swine fever since 2007 that originated in Georgia and spread into Russia, Europe and China.
"The infection strain in the samples collected from animals killed by the disease in those nations was identical to the Georgia-2007 strain," Igor Kirillov, commander of the Russian military branch responsible for defending troops from radiological, chemical and biological weapons, said on Thursday.
The Pentagon, however, rejected Moscow's concerns as part of "a Russian disinformation campaign directed against the West."
For some obscure reason, a US Air Force contract in July 2017 sought samples of ribonucleic acid (RNA) and synovial fluid from Russian subjects who "must be Caucasian." It also sought information on the donor's sex, age, ethnicity, weight, height and medical history, and specifically disqualified tissue samples from Ukraine.
In October that year, Russian President Vladimir Putin told the country's Human Rights Council that someone was collecting"biological material" from various ethnic groups and regions of the Russian Federation, wondering at the purpose behind this.
Despite worrisome scientific breakthroughs and controversial research programs, so far the notion of a genetically tailored virus being used as a bioweapon has been confined to science fiction. A story published in 2015, titled "Seven Kill Tiger," posited the nightmare scenario of China using such a weapon to wipe out much of Africa.
US developing bioweapons in secret lab in Georgia: Russia
Russia has called on the United States to explain experiments with biological and chemical weapons in Georgia, with various Russian officials warning Washington that Moscow won't tolerate such trials near its borders.
Major General Igor Kirillov, chief of Russia's Nuclear, Biological and Chemical Protection Troops, revealed during an interview with the state news agency TASS on Thursday that the US was running a secret chemical weapons lab at the Richard Lugar Public Health Research Center, located in the Georgian settlement of Alekseyevka.
"It raises a question – 'Why such documents are stored at the Lugar Public Health Research Center?' We expect a clear-cut answer to this question from the Georgian and American sides," Kirillov said.
He said a list of patents showed the US had developed various types of munitions intended for delivering chemical and biological agents.
According to these patents, the munitions had "low destruction cost" and didn't "need to contact with enemy manpower."
"This corresponds to the concept of 'non-contact warfare,' the United States is implementing," he said, referring to the evolving military concept of fighting wars while ensuring minimum physical contact of own forces.
Kirillov said the patents indicated possible plans by the US military to develop specific capsules that could be filled with poisonous, radioactive, narcotic substances as well as with infectious disease pathogens.
"These munitions are not related to the list of conventional armaments and humane tools of warfare, while the publication of this information contradicts international accords on the prohibition of biological weapons," Kirillov added.
The official said the Georgia center was part of a network of such weapons labs the US had established near the borders of Russia and China.
'US testing toxic drugs on patients'
Kirillov went on to accuse the US of testing deadly drugs and highly lethal biological agents on patients at the Lugar Center under the guise of medical research.
In one case, he said, over 70 people lost their lives after they were given the drug Solvadi, manufactured by the US-based Gilead Sciences, in which former US Defense Secretary Donald Rumsfeld is a key shareholder.
"Even during widespread epidemics at in-patient infection clinics, such a large number of lethal cases has never been recorded," the general said. He said the same medication was approved by Russia and "not a single lethal case was recorded during its clinical testing."
Russia will respond
Vladimir Shamanov, the head of Russia's State Duma (lower house of parliament) Defense Committee, said Moscow was going to take all the necessary political and military steps in response to the experiments.
"We cannot just turn a blind eye, knowing that something, which directly affects security on the southern borders, is happening there. We will take diplomatic and military measures," he confirmed.
Vladimir Yermakov, Director of the Russian Foreign Ministry's Non-Proliferation and Arms Control Department, took a similar line, telling reporters that Moscow had already raised the issue with Washington.
"We told [the Americans] that we won't let your military biologists do something strange on the Russian border," Yermakov said.
The revelations come amid an ongoing row between Russia and the West over the poisoning attack against former double Russian agent Sergei Skripal earlier this year.
Russia has firmly denied allegations that it was behind the attack.